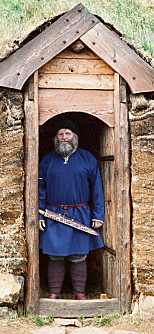 Saxes were usually carried in a sheath suspended horizontally from the belt. A 10th century burial cross in a churchyard in Middleton, Yorkshire shows a warrior surrounded by weapons (right). The sax is shown suspended from his belt. Saxes were carried with the blade upward, so the sharp edge didn't cut through the sheath. As a result, the bottom edge of the sheath mirrored the broken back shape of the sax.
Different length saxes are sometimes referred to by different names, such as langsax or scramasax. However, the usual term that appears in the saga literature is sax and, rarely, but equivalently, höggsax and handsax.
Some people preferred a sax over a sword for fighting. In Grettis saga for instance, Grettir preferred his sax, called Kársnautr, which he took from Kár's grave mound.