No other language knowledge is required, but experience in learning other languages, or extensive knowledge of modern English grammar will be helpful. Students should bring with them a copy of Zoega's book, A Concise Dictionary of Old Icelandic. A inexpensive paperback reprint is available for under $25. The book has been published in many editions, and used copies of earlier editions are available for even less. There are on-line editions as well, but we recommend that students have a paper copy at their disposal. Other printed materials, such as grammar guides, a bibliography, and sample saga texts, will be given to students in the class.
Other texts that might be useful are the volumes of A New Introduction to Old Norse which may be downloaded at no charge from the Viking Society for Northern Research (Introduction, Grammar, Reader, Glossary). Additionally, the VSNR has a downloadable English translation of Gísla saga available.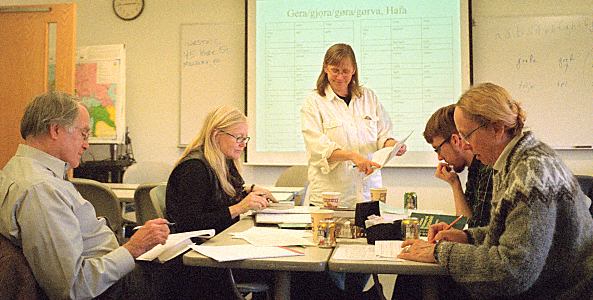 Students and instructor work together on a difficult passage.