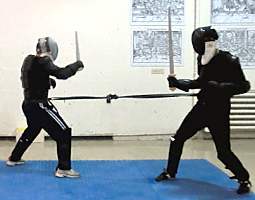 sparring where no retreat is possible
Sparring is not fighting, but it is as close to fighting as we know how to achieve with reasonable margins of safety. Fighting has no rules. Sparring has rules.
Sparring is not practice, but it is training. Sparring is the test that tells us what we must practice next.
Sparring is not about counting up hits, or scoring points, or pretending to be killed, or even about winning or losing. Our goal is not to judge the superiority of a person, but the superiority of an idea, a move, or an approach.

sparring in an enclosed space